Technology is an ever expanding, ever changing thing. We commonly see the innovations of today becoming the outdated programs of yesterday, and you can do so much using your computer, console, television or media device than we could have ever imagined. It is like a one-stop shop for everything from entertainment to academics, and the capabilities of even the near future are absolutely stunning.
When it comes to smartphones, things are even more incredible. A good example is the introduction of the Apple iPhone, a device so advanced that twenty years ago the very idea that we would have such a thing at our fingertips would probably have made our head's explode. You can text, play games, listen to music, watch full videos and TV shows, surf the web, social network, and make calls, which has become the least recognized feature. In fact, the only things it can't seem to do are provide pain relief during birth, wash your car and preside over Middle Eastern peace treaties.
One of the more popular advances in cell technology in the last few years is applications. From doing your taxes to fitness, there is, as the slogan goes, an app for that. But for something more interesting, how about being able to travel through Rome from your smartphone? Not only is that totally possible, but there is more than one way to do it.
Here are my picks for the top three ways to look at Rome through your iPhone.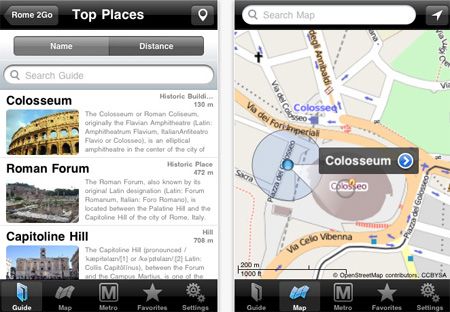 An incredibly cool app, Rome2Go is pretty much a comprehensive travel guide that has literally hundreds of travel articles, advice on things to see from their 1,400 location reviews, and a complete map with 5,900 streets recorded and arranged. It is the perfect travel companion, as it even works offline and so can be opened in seconds and used anywhere on the go. The only negative is that it is pretty much like having a guidebook, which might make it redundant. But on the plus side, it is easier to search through, and fast at finding what you need. It is also visually pleasing, with a ton of pictures in full color, and clear columns.
(Cost $0.99)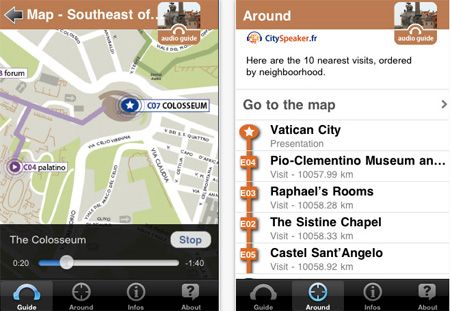 Packaged as a travel guide, this app is really more like a guided tour through the city. With full live tracks describing each places history and the modern influence, City Speaker is a great way to take a look at Rome from wherever you are. Because the city is such a historically relevant location, it is fantastic for both taking a look at how things are now, and how they were centuries before. They also give you a lesson on traveling there, and on the current Roman lifestyle.
(Cost $4.99)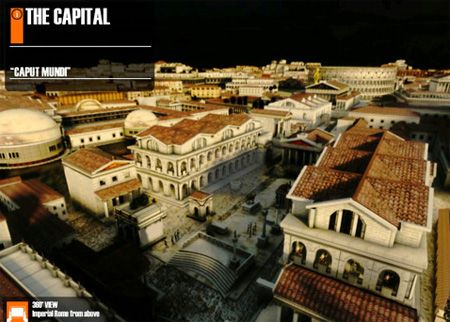 Probably the coolest app I have ever seen, Virtual History ROMA will actually show you what it was like in ancient times. There is a full tour of the city as it was, history lessons and a full panoramic zoom feature that is seriously breathtaking in detail. This is probably one of the best educational applications that has been made, and is well worth purchasing just for the wow-factor alone, much less what it can teach you.
(Cost $9.99)
Obviously, there are a ton more that we could go through, but they are mostly in the same thread. Travel guide apps are a dime a dozen, quite literally, and you can download them through the iStore, or just through travel websites that have jumped on the smartphone bandwagon to offer you smaller versions of their sites you can take with you wherever you go. Of course, these will be about more than just Rome, and so I didn't bother to offer the links here.
Rome, in the end, is a gorgeous city filled with history, beautiful buildings and modern delights. The culture is incredible, and it is well worth a visit. But if you plan on going there, you might want a travel guide and the first app can help you there. If you want a more extensive look into what currently stands in the city, the second will show you plenty. Or, if your tastes are for the past, you will love the final one on my list, which will give you a stunning view of what it was like in the time of the ancient Romans.
But that is only my own list…what about your own? Do you know of any good Rome apps, or just travel apps in general? What would you suggest? Leave your comments and let us know.
This guest post was written by Jessy Troy. Are you planning a trip to Europe? Don't forget to drop by Ukraine and if you do, bookmark Dobovo.com, a great guide for finding

Kiev accomodation

online.